UW Professor and Burke Curator, Greg Wilson, will share news about the ongoing Hell Creek work in Montana. Greg is responsible for organizing the digging efforts that have brought fantastic dinosaur bones to the Burke, including Clarissa the hadrosaur and the Tufts-Love T. rex.
Find out what has been accomplished and what is planned for this summer's expedition.
We will meet at the Burke Museum, downstairs in the old cafe, now called the Boiserie.
---
Professor Greg Wilson:
"I received my PhD in Integrative Biology from the University of California, Berkeley in 2004. I spent 7 months of an NSF Postdoctoral Fellowship in Helsinki, Finland before taking a curatorship at the Denver Museum of Nature & Science. I stayed at the DMNS until December of 2007 when I moved to Seattle to start in the Biology Department. I also serve as Curator of Vertebrate Paleontology at the Burke Museum. Please see the Paleobiology website for more information on the UW paleobiology community."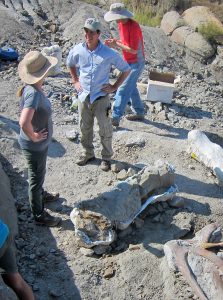 Burke Museum, Seattle WA
Boiserie Room
May 27, 2018
1pm-3pm
Guests and visitors are always welcome.